Rent a Boat Vodice
---
We offer attractive boats for rent. Enjoy sailing to the beautiful islands, hidden bays, and serene beaches nearby the town of Vodice, a popular Croatian tourist destination.
Spend an exciting holiday in Vodice and explore the beautiful Vodice archipelago.
---
Professional staff and best prices
Boat rental service
---
Those who like speed and excitement will enjoy RIB Inflatable speed boat BSC Ebony 78 powered by Honda 250Hp engine or speed boat Eolo 590 powered by Honda 135Hp engine. Others may like our small sports boat Ven 501K, easy to handle and ideal for peaceful navigation and fun.
---
---
SPEED BOAT BSC EBONY 78
Boat type:
RIB Inflatable
Lenght:
7.90m
Engine:
1 x Honda BF 250Hp
Max. persons:
9
Max. speed:
35 Nm
Price:
on request
SPEED BOAT EOLO 590
Boat type:
Speed boat
Lenght:
5.90m
Engine:
1 x Honda 150Hp
Max. persons:
6
Max. speed:
40 Nm
Price from:
200€ / day
SPORTS BOAT VEN 501K
Boat type:
Sports boat
Lenght:
4.99m
Engine:
1 x Honda 8Hp
Max. persons:
6
Max. speed:
6 Nm
Price from:
80€ / half day
All boats have a full set of equipment to ensure safe and comfortable navigation. Quick training regarding boat usage and safety will be provided by our staff. Boats can be rented with or without a skipper. For online reservations and longer rental periods, we allow special discount.
---
---
Rent a Boat frequently asked questions
1
How can I change the rental date or boat?
You can contact us any time and
send a request
for a change and we will be happy to meet your request. However, change is only possible if a new rental date or boat is available. Changes are possible for reservations at least 48 hours before the rental date.
2
Can I operate a boat without a license?
If you do not have a valid license, you are not allowed to operate the boat. In that case, you can rent a boat with our skipper. The skipper is not included in the price of renting a boat and is charged extra.
3
Is fuel included in the rental price?
Fuel costs are not included in the rental price. When picking up, the fuel tank will be full. When returning the boat, you are obliged to refuel. You pay for the fuel at the gas station.
4
What is included in the price of renting a boat?
Our boats are equipped with all safety and navigation equipment. For more information on the equipment
check our boats
because the equipment varies from boat to boat.
5
What to take with you on the boat?
You need to bring clothes, towels, food, drinks and personal items.
6
Do I need a fishing license?
If you plan to fish, Croatian law stipulates that you must have a fishing license. You can get a fishing license in all sport-fishing associations upon the presentation of an ID card or passport. Fishing is not allowed in the area of national parks and nature parks.
7
Is there a cell phone signal on the open seas?
Most of the Adriatic Sea is covered by a cell phone signal.
8
Where can I park my car?
Parking is available next to the city port, near
Rent a Boat Vodice info desk
. The price of parking depends on the period of the year and ranges from 5 - 15Kn / hour.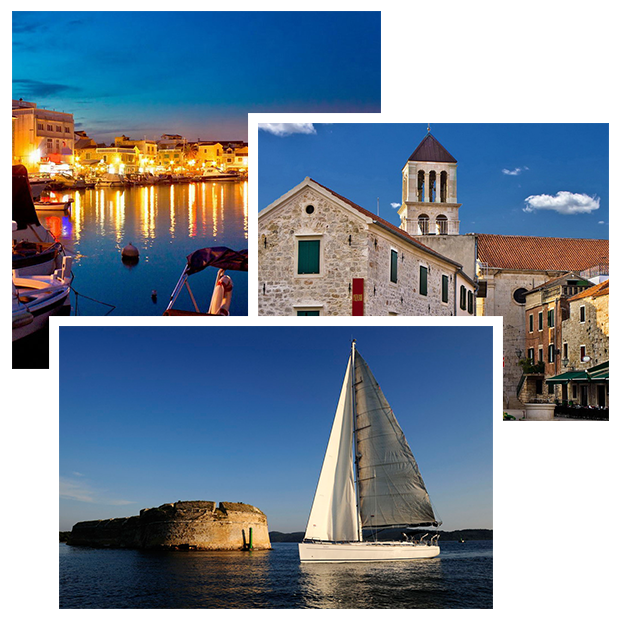 Town of Vodice
Leading tourist destination in Croatia
---
---
The town of Vodice is located along the coast in a wide bay with endless sandy and rocky beaches. Famous for its lively and various tourist offers and pleasant people, town Vodice is considered an ideal place for vacation where everyone can find something that they will enjoy. About 10 km south east is located town of Šibenik, the medieval town with Renaissance castles and cathedrals. Nearby are located two big national parks: Krka and Kornati.
Croatian coastline is one of the most indented coastlines in the world. With 1185 islands, islets and reefs, it is considered to be one of the most beautiful archipelago in the world. Sailors and sea adventurers, since ancient times, have been attracted and charmed by Adriatic coast.
Additional information about the best sailing routes and sea attractions to visit nearby Vodice are available at our Rent a Boat info desk.
---
Cozy apartments
Accommodation in a modern family house surrounded by beautiful gardens
---
---
Our apartments are situated in a quiet part of Vodice, just 195 meters from the beach and a few minutes walk from the town center. We have three modern apartments to offer within our family house. All apartments have separate entrances, a terrace or balcony, and a lot of facilities such as satellite TV, WiFi, air conditioning, parking, barbecue, coffee maker, microwave oven…
Town Vodice is well known for its tourist tradition and hospitality. Following this tradition, our family has been in tourism for a number of years. Our offer will provide you with a pleasant stay in our lively Dalmatian town.
Rent an apartment and get a special discount for renting a boat.
---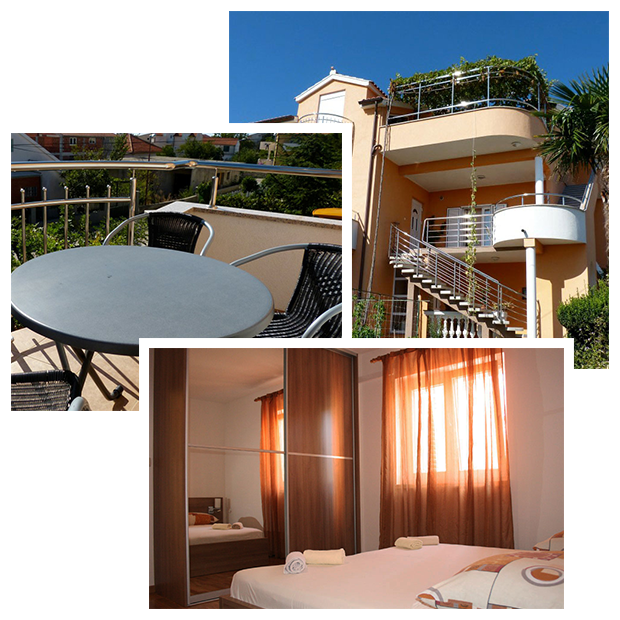 It's very easy to find us...
We are located nearby town main port, just 30m from Tourist Board Vodice office.
Our contacts
Obala V. Nazora BB
22211 Vodice, HR
Inquire here
Start planning your vacation on time. For all online reservations special discount will be included.